Began with clean up of the barn. A great pile of wood, long at the center of the barn, was sorted. Cinder blocks were allocated, 2 x 8's were cut. A place in the basement was made and they were set atop the 2 x 8's that in turn were set atop the cinder blocks, all in reverse order of course. This activity, un-pictured, caused the usual reaction by the local wooden Buddha community.
and how could it not be so, will such a magnitude of space liberated in which to exercise freedom?
Now what to do with such freedom? Heavens, there really are no limits except time and strength and blood and vision, boundless really. I guess then to reach heavenward, at least colloquially, a good first step.
There was a ten foot long wooden pallet that had arrived earlier in the summer. It spoke of not being garbage, of wanting to be involved in a higher enterprise. So be it, my ready answer, a trellis thou shalt become –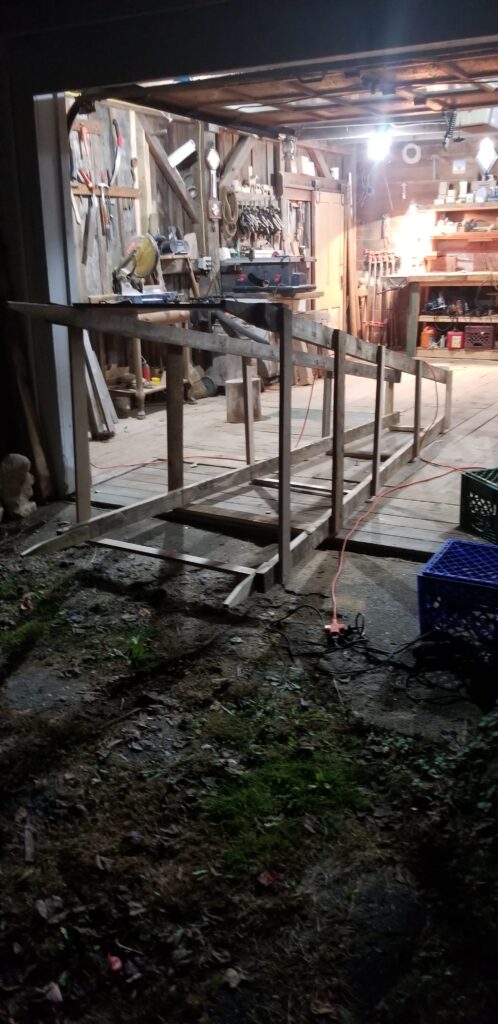 Probably sixteen more slats before fit for deployment. There is a small plateau on the southwest side of the yard, the grapevine plateau, all of 18′ x 10′ that seethes with grapevines, also bittersweet, Boston ivy, woody nightshade, a great richness of vines. The trellis will be set there to host a great dance of coexistence.
Stay tuned.