Neil Diamond rejected this title.  I had considered "Foss Farm Frogs" because of its alliterative value, and because the frogs indeed were found and Foss Farm, yet also it was September, and a wet one at that, for often September finds frogs chasing the receding shorelines of their habitats, nowhere near, where I was, the edges of a corn field – albeit the edges of a cornfield at Foss Farm which is next to the Concord River.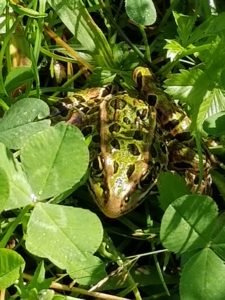 Makes me wonder if it's just the light or differing undercover but doesn't it look as if the frogs have a bit of a chameleon thing going on, that perhaps they emphasized different hues of themselves in different circumstances?  Funny frogs – prove it's not true, they say.
I was gathering seeds that morning, among them a giant Cleome.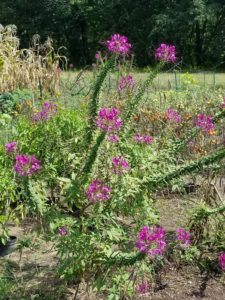 two inches almost in diameter at the base of the stalk, five feet in height, multiple arms, quite the strange alien really, the way it's seeds pods hang below the flowers like some sort of antennae.  This inclusion of the Cleome is not in any way to suggest it has a logical affinity with frogs.  Nothing more than a coincidental association, that I saw them on the same walk.
All of these pictures are quite high-def and clicking on them should afford satisfying detail.