And another time I will take the 'not my continent' exception against travel logging, not that I suppose there is anything so awful about a few pictures and thoughts, regardless of where they come from, but nonetheless.
Because I was in Brasil on business for a long time, and because my company would fly me home periodically, it was also true that they would fly me anywhere else closer than home if I so desired.  Tierra Del Fuego is closer to Sao Paulo than Boston is, so I took the freebie.
I landed at Ushuaia, right on the Beagle Channel, near sunset.  I want to say Ushuaia in such a manner that it rhymes with "Wish you were here", a la Pink Floyd, but I don't think that really it gets said that way.  Gritty little town at the end of the world.  Perfect.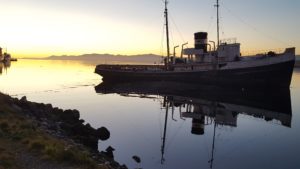 There's a nice wrecked tug in the small harbor.  Once was a US Navy vessel.  I collected shells and seeds that morning – lupines and limpets.  A few other bits that seemed interesting, even some sheep's teeth, though I have to admit it took me a while to figure what they were, and there were a surprising number of them on the shore of the channel, makes one wonder if Cthulhu is snacking down there or something.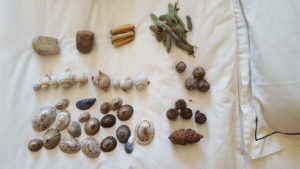 Normally I will never let any tour guide take me anywhere – it's just not my thing – but here they had an eight hour cruise that got one to an island with a penguin rookery, where you could literally walk with the penguins.  On the way there were whales, elephant seals,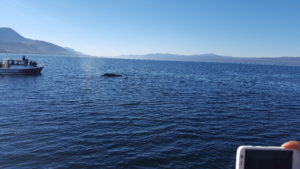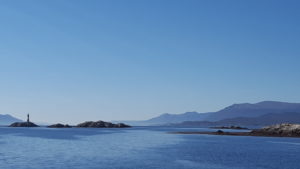 just some awful pretty places.  And that's where these little devils choose to live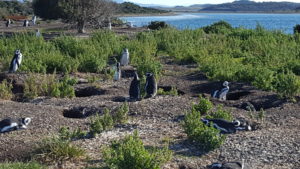 they were very confident, neither brash nor evasive.  One I spoke with a little but stopped as soon as I realized that he would talk back and that I should not socialize him in any way.
.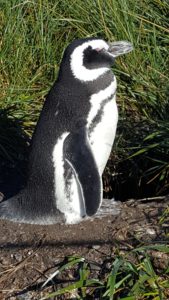 There were albatrosses too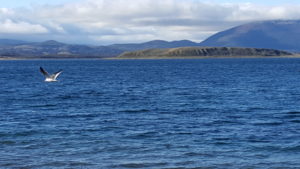 a few days later after I went to the National Park that they call at the end of the world.  I guess it is as far as you can drive.
it was calm and beautiful.