It's funny how, in nature, that we see circumstances where like things clump – certain sizes pebbles, types of shells, leaves and seeds, etc.  No doubt it's because the processes that sweep through the reality, currents of wind and water and time even itself grab each thing by what it affords to be held and change the position and character according to their influence – or something like that – but do take note, if you haven't, of this.
So, stairs.  I've not given any thought to stairs per se much ever, yet this summer and fall no less than three sets of outside stairs required some sort of detailed review and partial rebuild.  Really, dear reader, you may skip entirely the tiresome monologue which is to follow, nonetheless it is one of the sorts of things I document, for insight hides in small things and perhaps virtue in the infinitesimal, (or maybe the reverse, but I know both are scarce and elusive).
I'm sure that little attracts your eye in the picture above.  It seems, though, the facts are, that perpendicular to the direction of the step treads, on the top layer underneath the planks, run lines of nails as if the planks were nailed to joists beneath them, those presumed joists presumably perpendicular to the planks.  Oh human folly and frailty!
Now to take off the planks to examine the underlying reality requires that some accommodation be made for the 'decorative' column on the left.  I call it decorative because it cannot be seriously structural – no structural element worth its weight would be deployed on top of decking, but I'll save that monologue for another time.  You're welcome.  One could take off the planks not beneath the column, put a temporary column behind the present column, remove the present column, remove the planks and lo, at what little effort have revealed what lies beneath.  Or one could say 'Foo' – the just saying of it is very powerful – and cut through the three planks that underlie the column, just next to the right side of the column, and even say 'Ha!', for then the revealing of all that lies beneath is a much simpler task, not that one has not introduced some issues in the reconstruction, but certainly fewer than the whole column swap exercise. This later path – Foo. Ha! – is the one I took.
I realize I have not said why yet.  Facts are that it was reported, and could be verified empirically, that along the rightmost line of nails on decking, those going into the presumably perpendicular joists, that a great softness was to be experienced, as if the presumed joists were rotting.  There was sag in the planks there, and, as the problem was noted but neglected for a year or so there came to be identified a similar softness and sag along the second line of nails at the front three planks (not counting the edge plank).  Presumably more rot, now in the second presumed joist.
Men must follow their conclusions, this perhaps being the hardest of lessons, and any foo ha notwithstanding, with azebiki in hand (there is no azebiki wiki, unfortunately, or I'd link you there) (an azebiki is a type of Japanese hand saw where the blade is curved convexly and so can cut into a flat surface, really a great tool) I cut the planks adjacent to the column.  I removed the edge planks and the first three boards.  I found two unexpected conditions.
First, as you've probably intuited, the joists did not run perpendicular to the planks at all – that would be just too simple.  They ran parallel and then between them were inserted and nailed spanning sections of 2 x 8, <joist emulators!?> into which the planks were nailed.  There was no rot in the joist emulators, rather that two of them were barely affixed to the true joists and over time had become loose enough as to no longer provide the support expected of their role in service.  Failed joist emulators.  Bad joist emulators.  Woe unto the improper affixer of a joist emulator, may your perdition match your indolence – woe I say.  But really this turn of events was bright and rather than having to replace the whole presumed rotten joist now it was merely a task of properly affixing the failed joist emulation sections.  Frabjous.
But wait, a second condition was revealed in the frame of the platform.  The outer box of the rectangle supporting the deck was made of  2 x 10's, doubled, faced by a white 1 x 10.  Just taking the edge planks off revealed a considerable nest of carpenter ants, mostly in the outer 2 x 10 of the left side, a little on the left side of the front 2 x 10, in each case behind the white facing board.  No so frabjous.
Therefore some careful removal of rotted/infested material followed, the usual insults to reason and rightness subtly interwoven, and then a very sound reconstruction featuring the addition of an additional joist emulator, fittingly underneath the line that first my abeniki had taken.  With grace I made additional mahogany sawdust and mixed it with epoxy resin so that when I got the planks back on I could putty the sawn gaps in a manner both strong and matching.  Then finally I re-stained the deck.  I try to regard the whole exercise as a joy.  Such a tale.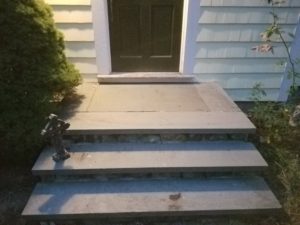 More steps, you ask?  Yes.  I asked the same question.  It was during the time that the aforementioned steps were cordoned off so that the stain could dry.  It was during that time that it was discovered that no less than all three of the bluestone flagstones were significantly loose, so loose indeed that they would tip and might even injuriously (spell-checker wants 'ingloriously' and that would be true as well) bite one in the back of an ankle – a very undesirable prospect.  Actions to repair followed the next day.
Those actions were very pragmatic.  The most right thing to do would probably have been to take each flag stone off, chisel out all the 'thinset' mortar between the field stone risers and their former treads, mix up new thinset, apply, and properly re-set each of the treads.  However, to sweep the existing thinset, to examine it and find that it was barely degraded at all, to identify that masonry adhesive might well do the trick at least for the winter if not for years … Foo.  Ha!  The job was done very directly, less than an hour of total work, and in the morning no amount of my most manful lifting would dislodge the treads from their rightful places.
This last set of steps, I know, the narrative is quite a bit to bear, has a long history, as does the cause for their repair this summer.  Briefly I had built these in the spring of 2006 from a few slabs and a few bricks, nothing special, not even cement.  This spring I noticed an unusual amount of ant activity on them, even some swarming, as if a great big nest were being built underneath.  Indeed, and in my kitchen above for the first time ever in fifteen years there were scavenging ants lugging breadcrumbs and whatsoever back to their not so traceable homes.  I put two and two together.
I mixed a good measure of boric acid with a few cups of sugar in a gallon of water.  My daughter and I removed the first slab – what a trove of eggs and scurrying colony members (picture to follow).  We were merciful.  We had a wheel barrow.  We shoveled out the earth into the barrow, repeated for the next two slabs.  We took the ant earth back to edge of the land and dumped it.  Got fresh earth, and as we put each layer in laced it with our antagonistic liquid.  A clear message to ants thinking of living there again, stragglers trying to return home, etc, but a problem solved without resorting to genocide.  We are so talking 'Foo Ha!'.
So stairs, surprisingly, have taken more cycles this season than ever I would have imagined.  Is there a unity in these experiences that transcends the unity in the one having the experience?  And there's a little more, that thing you see on top of the steps, the orange head that looks like it belonged to a Cyclops before he was struck by a thunderbolt and a big part split off.  That story will follow shortly enough, for I think that stone has asked to become a bird.